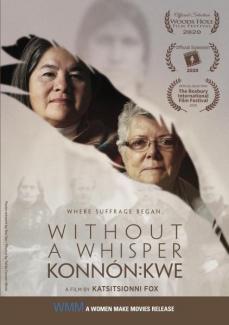 Virtual
Without a Whisper - KONNON:KWE: This film uncovers the hidden history of the profound influence Indigenous women had on the beginnings of the women's rights movement in the United States. Before the first women's rights convention in Seneca Falls in 1848, European colonial women lacked even the most basic rights, while Haudenosaunee women had a potent political and spiritual voice and authority in all aspects of their lives. The contact that the early suffragists had with Haudenosaunee women in New York state shaped their thinking and had a vital impact on their struggle for equality that is taken for granted today. The film follows Mohawk Bear Clan Mother Louise Herne and Professor Sally Roesch Wagner as they seek to correct the historical narrative about the origins of women's rights in the United States.
Click HERE to access Virtual Watch Page, or visit: https://www.wmm.com/virtual-screening-room/without-a-whisper-watch-page-university-of-georgia/ Password: UGWATCH21
Available to stream 24/day at your convenience from Monday, March 22 at 10am - Friday, March 26, 2021 at 11:55pm. Contact Terri at TLHAT@uga.edu for more information.
A complete list of Women's History Month programming at the University of Georgia is available online: download the poster calendar HERE or visit https://iws.uga.edu/events/Women%27s-History-Month