Image: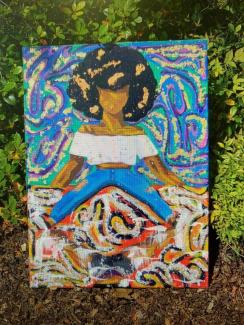 Today we are spotlighting part of our curriculum, WMST 2010: Introduction to Women's Studies, which is taught by our Graduate Teaching Assistants and offered every semester. As you may have gleaned from the title, this course provides students with an introduction to the interdisciplinary field of Women's Studies. Students who enroll in this class explore women's lives and experiences as they are shaped and influenced by social, political, economic, cultural and other important institutions. This course also intends to aid students in understanding and applying the various theories and practices within Women's Studies. Students also gain critical understanding of the intersections of race, gender, class and sexualities in their exploration of women's experiences.
Vera Bulla, Ph.D candidate in Portuguese in the Department of Romance Languages, and a Graduate Teaching Assistant in Women's Studies, taught this course for us for the first time in Spring 2022 and is teaching it again this Fall 2022. Vera has provided us with a thumbnail sketch of her class, along with pictures of some of her student's work:
Our semester is centered around the women's historical and contemporary movements in relation to the Feminist Waves, health, reproduction, media representations, citizenship status, labor markets, body perception, social construction and other pertinent topics. Our focus is on women's issues in the United States, however, we also look at the large comparative content of women's issues in Latin America, specifically Brazil as we study theories of Brazilian scholars and read creative works of Brazilian artists and writers.

Students read and talk about their impressions of essays and short stories in class, and students lead discussions on chosen topics. Essays and video presentations include a wide range of topics over the semester all relating to women's issues from many authors including Angela Davis, Judith Butler, bell hooks and Djamila Ribeiro. In addition, students analyze short stories of the Fantastic genre (science fiction, horror, dystopia, magic realism etc.) written by women writers of different nationalities. Toward the end of the semester each student presents a creative art project that may encompass anything related to women's issues that we have covered in class. Some examples included poetry, embroidery, paintings, music and collages. Any talent or expression of art is welcome!