Image: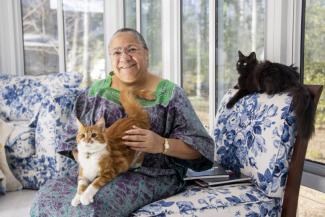 Congratulations to our Affiliate Faculty Member, Professor Emerita Dawn Bennett-Alexander!
Professor Bennett-Alexander, the awesome Dr. B-A, was celebrated with the creation of a new award in her honor, the Dawn D. Bennett-Alexander Inclusive Community Award. 
In commemoration of Professor Bennett-Alexander's 33 years of work to advance diversity at the University of Georgia, the award will be given to a UGA faculty member who has "contributed extensive efforts to promoting diversity, equity and inclusiveness at UGA." 
Congratulations, Dr. B-A!  We salute you! 
Cheers, 
IWS Community
Learn more about this much deserved honor: https://news.uga.edu/bennett-alexander-inclusive-community-award-created/
Photo: Dawn D. Bennett-Alexander in her home. (by Dorothy Kozlowski/UGA)