Image: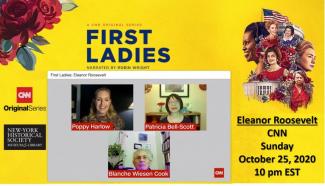 Dear IWS Community:
Our brilliant Professor Emerita, Patricia Bell-Scott, will be one of the biographers featured in this week's episode of the CNN Original Series, "First Ladies" which presents the story of First Lady Eleanor Roosevelt.  The episode will air this Sunday, October 25, 2020 at 10 pm.
Dr. Bell-Scott is a distinguished author and editor.  Her most recent book is The Firebrand and the First Lady: Portrait of a Friendship: Pauli Murray, Eleanor Roosevelt, and the Struggle for Social Justice (Knopf, 2016). Her previous books include Life Notes: Personal Writings by Contemporary Black Women, Flat-footed Truths: Telling Black Women's Lives; Double Stitch: Black Women Write about Mothers and Daughters, which won the Letitia Woods Brown Memorial Book Prize, and All the Women Are White, All the Blacks Are Men, But Some of Us Are Brave: Black Women's Studies, an award-winning textbook. She served for a decade as co-founding editor of SAGE: A Scholarly Journal on Black Women. She is a former contributing editor to Ms. Magazine and a cofounder of the National Women's Studies Association. www.patriciabellscott.com
Please join us in watching Dr. Bell-Scott, who is contributing insights from her biographic research in this groundbreaking series, First Ladies.
Happy viewing,
Juanita