Image: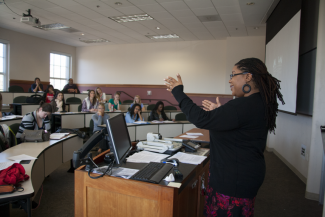 Digital Media Art/Design and Women's Studies
Assistant Professor Position
The Lamar Dodd School of Art and the Institute for Women's Studies at the University of Georgia invites applications for the tenure-track position of Assistant Professor of Digital Media Art/Design and Women's Studies. The appointment will be 50% in each unit, with tenure in the Lamar Dodd School of Art. Full consideration will be given to applications received by January 12, 2018.
Successful candidates will have a proven record of active research/creative practice as an artist and/or designer, with an emerging or established reputation within her/his area of expertise. The candidate's research must demonstrate practical and theoretical engagement with digital media and women's studies issues as informed by an extensive knowledge of the history of both disciplines, and a demonstrated interest in and record of achievement in feminist scholarship and/or creative practice. Working collaboratively with colleagues from across the School of Art and the Institute for Women's Studies, the successful candidate will bring an entrepreneurial spirit, along with strong management and organizational skills. Candidates must be able to demonstrate knowledge of current and emerging trends in digital media. The candidate must have had study in or demonstrate a research agenda that has regularly engaged in the fields incorporated in women's studies. The candidate will be knowledgeable and actively engaged with issues in contemporary art and design and women's studies, and capable of creating a critical and inventive environment in the classroom inclusive of interdisciplinary and collaborative practices. Curricular development, mentor-ship of graduate students and coordination with multiple areas within the School of Art are important components of this appointment. Candidates whose teaching and research can take advantage of opportunities for collaboration at the departmental-, college-, and university-levels will be viewed favorably. We are seeking an artist or designer able to engage in both fields at the highest level, thus bridging these academic programs through scholarship, research, curriculum design and teaching.
Candidates whose expertise, practice, and research agenda that incorporate the following areas are highly desirable:
• Creative Coding
• Social practice or Activism
• Interdisciplinary Design
• Entrepreneurship
• Curatorial Practice or Art Education
• New Media
This position requires an MFA degree or equivalent terminal degree with an active creative practice and research agenda. It includes a teaching load of two courses per semester, with a commitment to teaching Digital Media Art/Design courses throughout the curriculum of the Art School and Women's Studies. Additional teaching opportunities in upper level courses and summer teaching may be available. Active engagement in the community of the School is expected including service on committees.
Minimum Qualifications:
•MFA in Studio Art/Design or terminal degree in a closely related field.
Preferred Qualifications:
•Two years teaching experience beyond graduate school.
•Expertise and ability to teach lecture, seminar and studio format courses.
•Ability to develop courses that follow the candidates research agenda.
•Emerging or established reputation for active art/design practice.
•Knowledge of current and emerging theories of digital media practice and women's studies
issues.
•Excellent writing, communication and organization skills.
•Applicable knowledge of current technologies in the design and art making and instruction
•Willingness to engage across disciplines both on and off campus in multiple capacities of
research, teaching and service.
The University of Georgia is the first state-chartered university in America and celebrated the 225th anniversary of its charter in 2010-11. It is a comprehensive land and sea grant university located in Athens, Georgia, 70 miles northeast of the state capital in Atlanta (www.visitathensga.com; www.uga.edu). With over 35,000 students and 2,900 faculty members, UGA is one of the four major units of the Georgia System of Higher Education and offers programs of study at the doctoral level in most fields. In addition to its home campus, The University of Georgia maintains and is expanding its list of study-abroad programs around the world. Georgia is well known for its quality of life in regard to both outdoor and urban activities (www.exploregeorgia.org).
The nationally ranked Lamar Dodd School of Art at the University of Georgia has over 45 full-time faculty members in studio art, design, art education, and art history, administering undergraduate and graduate programs to 1,000 majors, minors and graduate students. The Institute for Women's Studies, an integral part of the University of Georgia since 1977, provides a feminist interdisciplinary perspective on women and gender. The Institute has nine core faculty and over 150 affiliate faculty across the University and disciplines, with 150 undergraduate major/minors and 70 graduate students. The Franklin College of Art & Sciences, its many units, and the University of Georgia are committed to increasing the diversity of its faculty and students, and sustaining a work and learning environment that is inclusive. Women, minorities and people with disabilities are encouraged to apply. The University of Georgia is an Equal Opportunity/Affirmative Action employer. All qualified applicants will receive consideration for employment without regard to race, color, religion, sex, national origin, disability, gender identity, sexual orientation or protected veteran status. Faculty members are expected to support the college's goals of creating and sustaining a diverse and inclusive learning environment.
Persons needing accommodations or assistance with the accessibility of materials related to this search are encouraged to contact Central HR (facultyjobs@uga.edu). Please do not contact the department or search committee with such requests.
Application submission should include:
- Letter of Application
- One page research agenda
- CV
- Samples of Creative Practice or Scholarship
- Sample syllabus
- Names and contact information for 3 references
We will receive applications for this position through the University of Georgia, Faculty Jobs website (https://facultyjobs.uga.edu/) AND SlideRoom. Applications will receive full consideration if submitted before January 12, 2018
IMPORTANT:
Your research/creative practice and examples of student work must be uploaded to SlideRoom at http://artuga.slideroom.com. Applicants may upload images, video, music or PDF documents. For good image quality and fast upload, your image files should be sized no larger than 1220 px @ 72 dpi. The SlideRoom portal offers additional instruction for submitting work. For technical assistance, access the help desk at http://slideroom.zendesk.com
For more information, visit https://facultyjobs.uga.edu/postings/3173