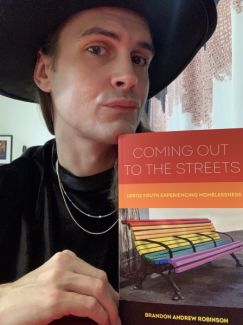 via Zoom, Registration required - contact TLHAT@uga.edu for more info
Andrea Carson Coley Lectures
"Coming Out to the Streets: LGBTQ Youth Experiencing Homelessness" presented by Dr. Brandon Andrew Robinson, University of California - Riverside
Register in advance for this meeting:
https://zoom.us/meeting/register/tJ0rdO-qrzwrGNwKG1Z3cGbuDs6QxqXzWiiu 
After registering, you will receive a confirmation email containing information about joining the meeting.
In this talk, Dr. Brandon Andrew Robinson will be discussing their book Coming Out to the Streets: LGBTQ Youth Experiencing Homelessness. Based on interviews and ethnographic fieldwork in central Texas, Coming Out to the Streets looks into the LGBTQ youth's lives before they experience homelessness—within their families, schools, and other institutions—and later when they navigate the streets, deal with police, and access shelters and other services. Through this documentation, Brandon shows how poverty and racial inequality shape the ways that the LGBTQ youth negotiate their gender and sexuality before and while they are experiencing homelessness. To address LGBTQ youth homelessness, Brandon contends that solutions must move beyond blaming families for rejecting their child. In highlighting the voices of the LGBTQ youth, Coming Out to the Streets calls for queer and trans liberation through systemic change.
Endowed by the Coley family, hosted by the Institute for Women's Studies, co-sponsored by the Georgia Museum of Art and the UGA Pride Center.
Bio: Brandon Andrew Robinson is an Associate Professor in the Department of Gender and Sexuality Studies at the University of California, Riverside. They are the author of Coming Out to the Streets: LGBTQ Youth Experiencing Homelessness, the coauthor of Race & Sexuality, and have published in numerous peer-review journals, including Gender & Society, Journal of Marriage & Family, and Sociology of Race & Ethnicity. Brandon's work provides new theoretical frameworks and concepts to help understand LGBTQ life today. These research findings also contribute to working toward social change. 
Dr. Robinson's book is available as an ebook via the UGA Libraries. Click here to access.