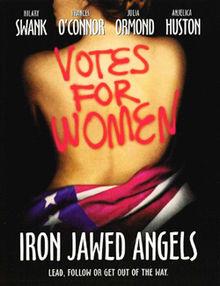 Special Collections Libraries
Special Information:
FREE, open to all, FYO approved
Filmmaker Katja von Garnier directs the HBO original movie Iron Jawed Angels, inspired by a pivotal chapter in American history. Hilary Swank plays Alice Paul, an American feminist who risked her life to fight for women's citizenship and the right to vote. She founded the separatist National Woman's Party and wrote the first equal rights amendment to be presented before Congress. Together with social reformer Lucy Burns (Frances O'Connor), Paul struggled against conservative forces in order to pass the 19th amendment to the Constitution of the United States. One of their first actions was a parade on President Woodrow Wilson's (Bob Gunton) inauguration day. The suffragettes also encountered opposition from the old guard of the National American Women's Suffrage Association, Carrie Chapman Catt (Anjelica Huston). The activists get arrested and go on a well-publicized hunger strike, where their refusal to eat earns them the title of "the iron-jawed angels." Iron Jawed Angels was screened at the Sundance Film Festival in 2004 before its television premiere on HBO.