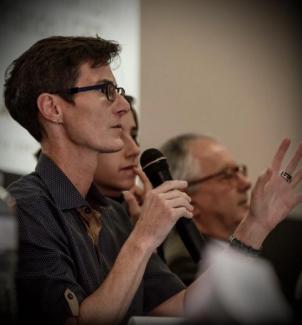 via Zoom, See below for link or contact TLHAT@uga.edu
Special Information:
FREE, open to all
Andrea Carson Coley Lectures
Originally scheduled for April 2020; rescheduled to October 23, 2020 to take place via Zoom
"How Dare You": Rage and Resistance in an Age of Catastrophe
Presented by Dr. Ann Pellegrini, Professor of Performance Studies and Social & Cultural Analysis, New York University
Co-sponsored by the LGBT Resource Center and the Georgia Museum of Art.
Ann Pellegrini is Professor of Performance Studies & Social and Cultural Analysis at New York University.  Her books include: Performance Anxieties: Staging Psychoanalysis, Staging Race; Love the Sin: Sexual Regulation and the Limits of Religious Tolerance (co-authored with Janet R. Jakobsen); Secularisms (co-edited with Jakobsen); and "You Can Tell Just By Looking" and 20 Other Myths about LGBT Life and People (co-authored with Michael Bronski and Michael Amico).  "You Can Tell Just By Looking" was a finalist for a Lambda Literary Award for Best LGBT Non-Fiction, in 2014.  Pellegrini co-edits the "Sexual Cultures" book series at New York University Press (with Joshua Chambers-Letson and Tavia Nyong'o), and is a candidate in adult psychoanalysis at the Institute for Psychoanalytic Training and Research (IPTAR), in New York City.
Photo credit: Alexander Koromilas  
*Register in advance for this meeting:
https://zoom.us/meeting/register/tJYvce-gqjIrGN3mPUcIvziqw3j7Ep-YIPl4
After registering, you will receive a confirmation email containing information about joining the meeting.