Special Collections Libraries, 271
Special Information:
FREE, open to the public, followed by reception
The Institute for Women's Studies has partnered with the Office of Institutional Diversity, the Institute for African American Studies, Franklin College, the Atlanta branch of the Association for the Study of African American Life and History, and the Athens Area Black History Bowl, to bring Dr. Evelyn Higginbotham, Professor of African and African American Studies at Harvard University, to the University of Georgia as part of the Women's History Month programming.
Dr. Higginbotham, who received the 2014 National Humanities Medal from President Barack Obama, is a renowned historian whose work has influenced the inclusion of women's perspectives and voices in the development of oral history reports.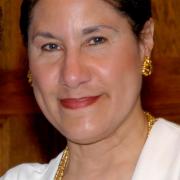 Her lecture, titled "'The Metalanguage of Race': Then and Now," will take place on Thursday, March 16 at 6:30 p.m. in the Richard B. Russell Special Collections Libraries, room 271. 
A reception sponsored by the Athens Area Black History Bowl will follow the lecture.