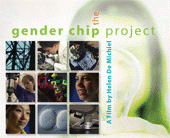 Miller Learning Center 148
Special Information:
Miller Learning Center rm. 148 FREE, open to the public, Blue Card Event
THE GENDER CHIP PROJECT film is being hailed as an important resource for addressing the disparity of representation of women in the science, technology, engineering and math (STEM) fields. Although women comprise the majority of undergraduates in America, only 20 percent are earning degrees in engineering and computer science. With statistics like these—and controversies such as the firestorm created when a prominent university president suggested women lack innate abilities in math and science—it's clear that the road to success in the high-stakes STEM professions is not an easy one for young women.
THE GENDER CHIP PROJECT illustrates this challenge as it follows five extraordinary women majoring in the sciences, engineering and math at Ohio State University. Meeting regularly throughout their four years of school, they create a community to share their experiences and struggles as women stepping into traditionally male domains, and find support in dialog with their female professors. Now chaptered for easier use, the DVD shows how these extraordinary students are finding their own way to navigate and succeed in these male-dominated areas of study.  (via Women Make Movies)