Image: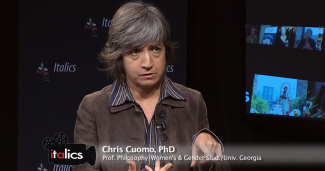 Chris Cuomo, professor of Women's Studies and Philosophy at the University of Georgia, was featured on CUNYtv's show, Italics - Television for the Italian American Experience, for it's Women's History Month episode.
This episode focuses on Italian American women in the public eye. Pop icon who often refers to, embraces, and sometimes seemingly desperately clings to her Italian roots: Madonna Louise Ciccone, aka Madonna. Kay Turner (The New School) and Chris Cuomo (University of Georgia) discuss the "Material Girl" as Italian American woman.
Also featured in the episode: Valerie Smaldone, one of America's favorite voices, in radio, commercials, and television, on her multifarious career as a media personality and entrepreneur, women in media, and not being afraid to "be fabulous" and Professor Margherita gives us a lesson on Italian words for this month, dedicated to women.
Click here for a video of the episode: https://www.youtube.com/watch?v=2Jb7P0hLdPM
Click here to visit CUNYtv's Italics website: http://www.cuny.tv/show/italics