Image: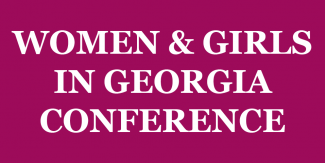 CALL FOR PAPERS
Women & Girls in Georgia Conference
Theme: Sustainability
Date: Friday, October 9 - Saturday, October 10, 2015
Location: Athens, Georgia
The Institute for Women's Studies at the University of Georgia welcomes proposals for its sixth biennial Women and Girls in Georgia Conference, to be held in Athens, Georgia on Friday, October 9 -
Saturday, October 10, 2015.
The conference, which focuses on feminist research concerning women and girls in Georgia, seeks to connect academics, advocates, activists, and community members from across the state and region. The conference embraces traditional and non-traditional presentations of cutting-edge scholarship, reports from the field, performances, and exhibits and provides opportunities for networking and political strategizing.
This year's conference theme of Sustainability explores the intersection of social, economic and environmental challenges as they relate to women and girls. From garden clubs to world-class scientists, women have made and continue to make important contributions in the practice and research of local, regional, national and global sustainability. This work highlights the need for solutions to the many challenges facing women and girls that recognize the interconnection between environmental limits, and human values and well-being. Georgia represents an extensive laboratory for investigating these issues with a wide range of ecological biomes from the mountains to the coast, and social and economic diversity.
The Institute for Women's Studies encourages submissions that engage the intersections of gender, sexuality, race, and other dimensions of identity, and that acknowledge the diversity of women and girls in Georgia (including immigration issues, disabilities, LGBT, etc.). We particularly welcome knowledge generating presentations that incorporate community involvement, applied research, knowledge sharing, service learning, and student participation.
We seek individual papers, group panels, workshops, and other formats.
Possible topics include (but are not limited to):
Environmental Justice * Women and Wilderness * Environmental Racism * Food Security/Insecurity * Climate Change * Community Gardening * Global Farming * Sustainable Design * Sustainability and the Arts * Women and Water * Environmental Literature * Environmental Health * Traditional Ecological Knowledge * Women and STEM * Worker's Rights in Food Production
We welcome qualitative, quantitative, theoretical, and other varied methodological feminist approaches.
Each proposal submission should include:
1) One-page abstract including the title of the paper(s)
2) Name(s) and affiliation(s) of all presenters
3) Email address(es) of all presenters
Please submit proposals via email to WAGGconf@gmail.com with "WAGG 2015 Proposal Submission" in the subject field.
Deadline for submissions: Wednesday, April 22, 2015
For more information or questions, contact WAGGconf@gmail.com
Papers and presentations from the conference may be posted on the Women and Girls in Georgia website, http://wagg.uga.edu. For more information on the Institute for Women's Studies at the University of Georgia, visit http://iws.uga.edu.