Image: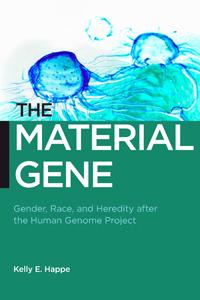 Kelly Happe, assistant professor of communication studies and women's studies, has a new book released by New York University Press in May 2013. The book, The Material Gene: Gender, Race, and Heredity after the Human Genome Project explores the cultural and social dimensions of our understandings of genomics, using this emerging field to examine the physical manifestation of social relations.
In 2000, the National Human Genome Research Institute announced the completion of a "draft" of the human genome, the sequence information of nearly all 3 billion base pairs of DNA. Since then, interest in the hereditary basis of disease has increased considerably.
In The Material Gene, Kelly E. Happe considers the broad implications of this development by treating "heredity" as both a scientific and political concept. Beginning with the argument that eugenics was an ideological project that recast the problems of industrialization as pathologies of gender, race, and class, the book traces the legacy of this ideology in contemporary practices of genomics. Delving into the discrete and often obscure epistemologies and discursive practices of genomic scientists, Happe maps the ways in which the hereditarian body, one that is also normatively gendered and racialized, is the new site whereby economic injustice, environmental pollution, racism, and sexism are implicitly reinterpreted as pathologies of genes and by extension, the bodies they inhabit. Comparing genomic approaches to medicine and public health with discourses of epidemiology, social movements, and humanistic theories of the body and society, The Material Gene reworks our common assumption of what might count as effective, just, and socially transformative notions of health and disease.  Part of the Biopolitics Series.
"The Material Gene is a provocative, clearly written, and well-informed account of how genetic science reinforces harmful assumptions about race and gender under the banner of 'progress.' Exploring the discourses surrounding the genetic basis for breast cancer, Happe argues that the rhetoric of genomic medicine hyperindividualizes and privatizes risk and disease. Thus she reminds us of the urgency of critical framing of scientific research. This book is necessary reading for scholars of rhetoric, scientists, and citizens who are building alternative frameworks for understanding disease and heredity."
—Dana Cloud, Associate Professor, Communications Studies, University of Texas