Image: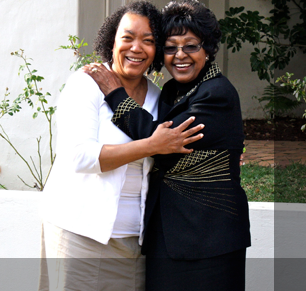 Writer: Michael Childs, 706-542-5889, mdchilds@uga.edu, via COE News
University of Georgia College of Education professors Talmadge Guy and Juanita Johnson-Bailey recently met with iconic South African politician and longtime activist Winnie Mandela in a visit to her homeland.
Guy and Johnson-Bailey, both professors of adult education, were making their seventh visit to South Africa to re-establish contacts regarding UGA's memorandums of understanding (MOU) for collaborative work with the University of Botswana  and to establish a new MOU with the University of the Witwatersrand at Johannesburg.
The UGA faculty members met with faculty of both universities, including a master's degree graduate of UGA's adult education program, Bheki Zungu (BSEd '03, MEd '05), now a faculty member at the University of the Witwatersrand.
The pair toured several schools, meeting with various school administrators and Johnson-Bailey gave talks about women in the South African freedom struggle at two adult community programs at Zungu's request.
However, the highlight of the trip was meeting with Winnie Mandela which was arranged by Zunga, said Johnson-Bailey.
"It was at a birthday party for her great-granddaughter at the home of Mandela's granddaughter in Johannesburg," she said. "We had been scheduled to meet with Winnie privately the day before at her home in Soweto, but she had an unexpected meeting that she had to attend. So the only way that she could fit us in was if we saw her the next day at the birthday party."
Mandela has held several government positions and headed the African National Congress (ANC) Women's League. She is currently a member of the ANC's National Executive Committee.
Photo credit: Brandice Bailey